Student senate
About us
Student time is hard study and, of course, a multifaceted spectrum of interesting and exciting student life! The Student Senate deals with the arrangement of cultural events, the creation of clubs, as well as the legal protection of students and support for their initiatives. Activities in the ranks of the Student Senate provide an excellent opportunity to gain knowledge, develop new skills and competencies as well as socialize students in the academic society.
The Student Senate organized 5 classes, each of them have their own focus:
Media - Class,

Culture class,

Social class,

Science class,

Clubs
Areas of activities
Student Senate ensures the real work of students' self-government and works to identify and develop useful competences of INAI.kg students, develops the culture and is a representative body of the whole student community.
The Student Senate organized five activities, each of them carries out work in its own direction:
Cultural-mass and creative activities

Media and PR activities

Sports activities

Social and public activities

Scientific activities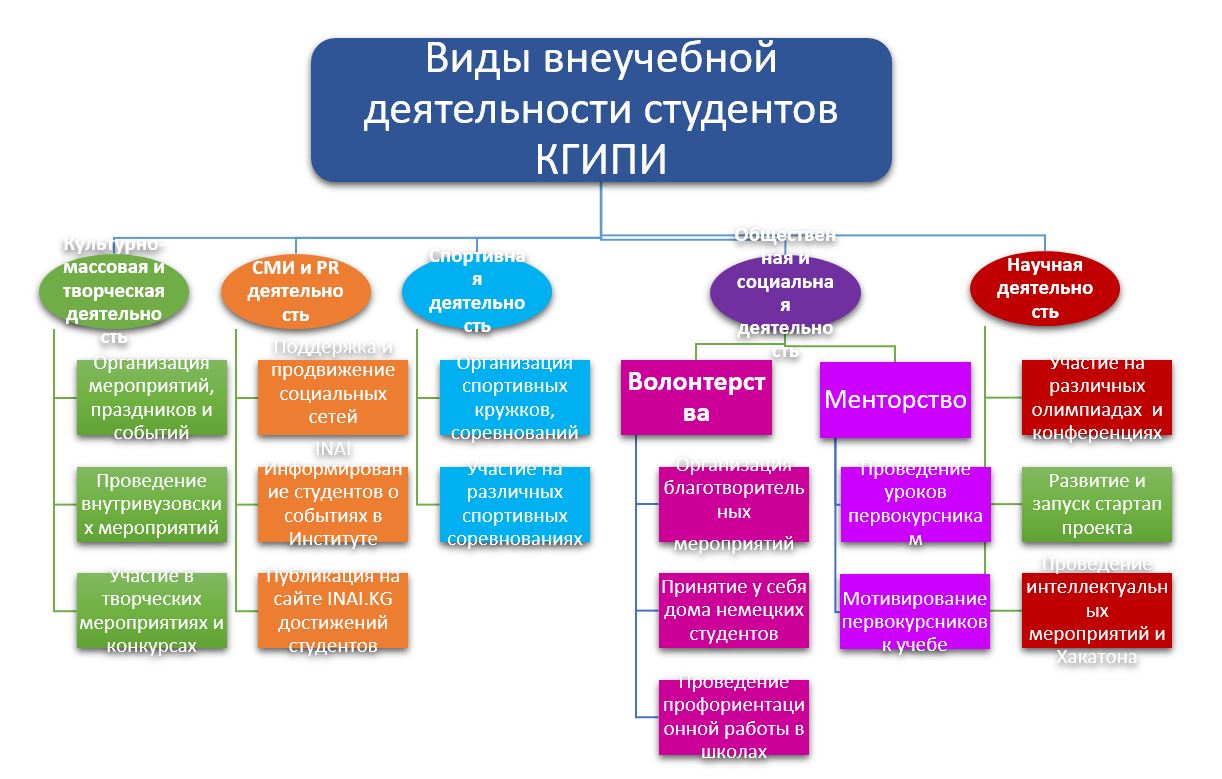 Cultural and creative activities
Cultural-mass and creative activities include the organization of events related to cultural and national holidays and events, holding internal university events, as well as participation in inter-university creative events and competitions.
The members of the activities arrange various of events for the protection, creation, dissemination and learning of cultural values with love.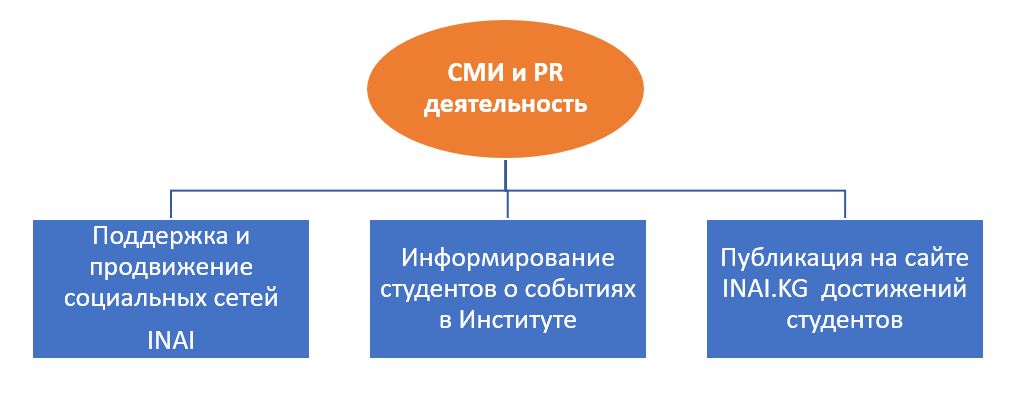 Media and PR activities - is to use social platforms as channels to promote ourselves online, recruit students to our institute and increase our brand awareness among other universities. Our main task is to maintain an Instagram account as well as the official website of INAI KG. Besides this, it is our task to keep students informed with news and developments at the university. Nowadays, social networks have become an integral part of human life. Therefore, proper social networking is necessary to maintain and increase the popularity and recognition among the students.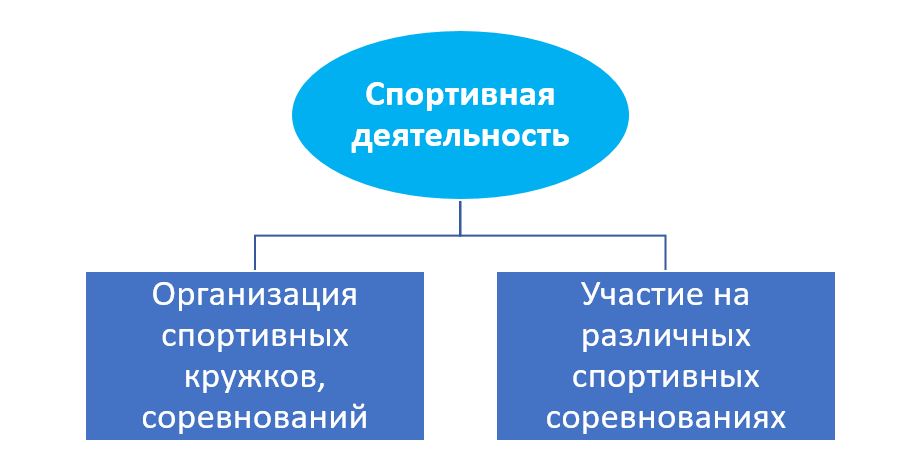 Sports activities
Sports activities include organizing competitions in coursework and start-up projects, intellectual activities and intramural Hackathon among groups, as well as participation in various Olympiads and conferences (inter-university, international, etc.).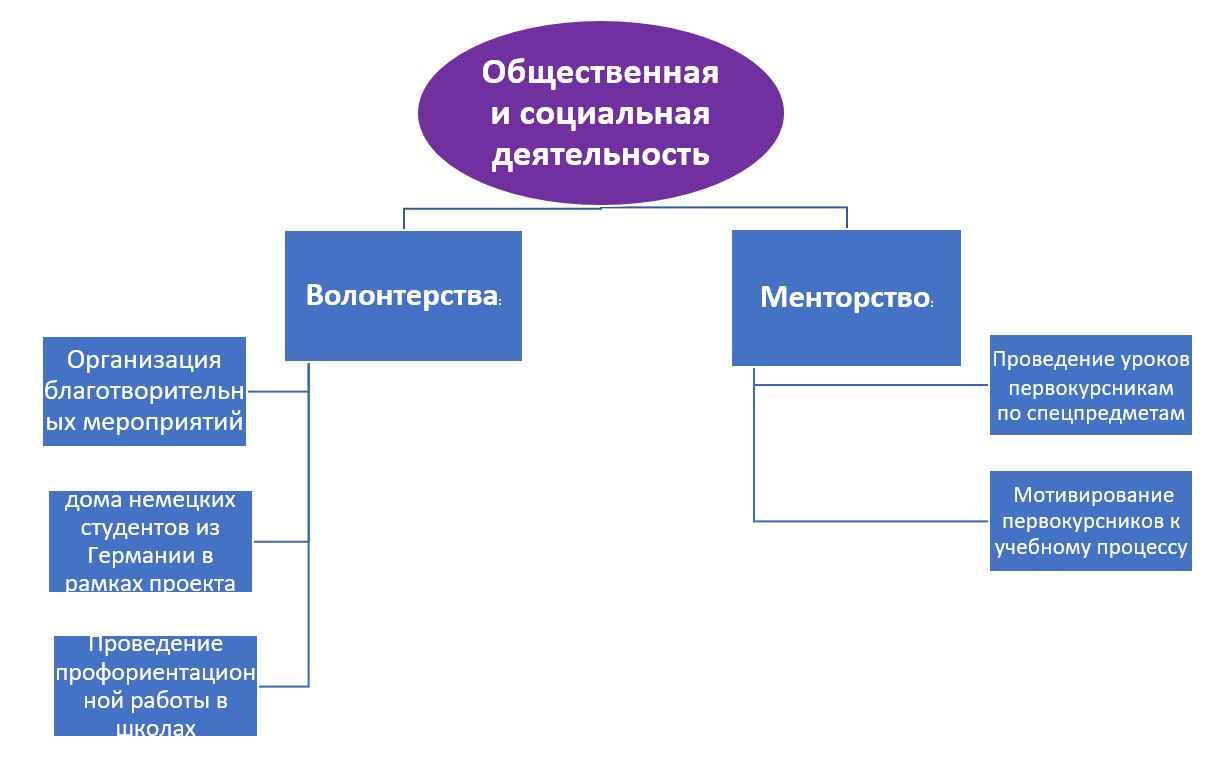 Community and social activities
INAI.kg students can host a participant in the Robotics Summer School from Germany as a host family for a two week stay.
The most important task for the host family is to create a comfortable, friendly environment. It should be a support and mainstay for the student from Germany. And gives him or her all the introductory information about the area of residence, the route to the university. It also provides the conditions for living - a separate arranged room, a personal set of keys and all the necessities, including bed linen and towels.
Let's list a few nice bonuses of this kind of hosting an international student in your home:
both parties learn about the customs and culture of the two countries, in particular Kyrgyzstan and Germany;

you will get a chance to get the right accent and expand your vocabulary with the spoken word;

learn about cultural similarities and differences through live interaction;

the chance to learn first-hand about studying at Bachelor's and Master's level in Germany;

an excellent chance to make friends with a German student and keep in touch with him or her in the future.
Through close, friendly contact, the hosts and the international student become friends and maintain a relationship after the Summer School.
Social and community activities also include the arrangement of events related to charity and human rights. Our primary aim is to help people with disabilities and children in need of help. We also do not forget about the rights of every person. Because our country is free and every person has rights which are protected by law. Everyone is free and we want this to continue. We shall strive to ensure that every person's rights are respected, and that every resident of our state is protected. The objectives of this activity also include mentoring, tutoring first year students in various subjects, and assembling first year students in the education process. We will teach lessons in different subjects. This will help them learn new subjects more easily and get used to their new surroundings.

Research activities
Scientific work of students is one of the most important means of quality improvement of training and education of specialists who are able to creatively apply the acquired skills in practical activity. The main purpose of organization and development of scientific activity is not only to increase the level of scientific education of specialists, but also to identify talented young people for further study in exchange master programs.
The scientific activities of students stimulate their interest in various fields of knowledge and provide additional opportunities for self-realization. Involvement of students in research activities is the most effective and efficient condition for the development of their creative abilities. Creativity, in its turn, includes the ability to transfer previously acquired knowledge, skills and abilities to new situations, using previous experience.
The main objectives of students' scientific activities, which complement the learning process, are:
Participation in various competitions and conferences (interuniversity, international, etc.)

Organizing competitions in course and start-up projects

Conducting intellectual events and interuniversity Hackathon among groups
Developing the potential of the first year student
First year students are a special stratum of the Academy's student body, who need help with self-realisation and socialisation in student life. The Student Senate has a special focus on working with incoming students.
Motivation
Initiative and belief in one's abilities, leadership and teamwork are the foundational qualities of a successful and bright student.
Our team
Alaken Kubatbekov

Culture and mass activities leader

Nuri Amangeldieva

Culture and mass activities leader

Aziz Kalimov

Science Activities Leader

Kutmanbek kyzy Dilnaz

Community and Social Activity Leader

Amiraev Aziz

Sports Activity Leader